Does your hosting provide provides less mailbox size, don't worry we have solution for this. You can use your Gmail account to send and receive your domain email address by setting up your domains email address as a POP3 and SMTP account at Gmail.
Before going to next step, You should know about port numbers.
If your mail server is configured with SSL so you need use below port:
SMTP: 465
IMAP: 993
POP3: 995
For Non SSL:-
SMTP: 25
IMAP:143
POP3:110
Now Login to your gmail account. Click the Settings gear in Gmail.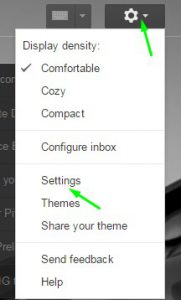 Now click on Accounts and add POP3 accounts you own.

Enter your domain email address and click Next Step.
Enter your POP3 information for your domain email address in the form and Click Add Account.
You will see a message. Your mail account has been added. You can set the email to send as well
 If you do not want to send through Gmail, click the No radio button. You don't need to follow the next step.
If you want to add email address for mail sending so click on next step and enter your name and click next step
On the Send mail through your SMTP server page, fill in your SMTP Server, Username (full email address),
and Email Password. Then, click Add Account.
Now, Gmail will send a verification code to the address you just added. Check your domains email for a message Gmail sent you. Click the link in the email, or Enter the code into the text box and click Verify.
Now you will see your Domains email address in the Send Email As and the Check mail from other accounts section.