Social media sites have become the target for hackers as the details of 32 million Twitter accounts have been stolen and are now being sold on the dark web.
The world came to know about massive data breaches in some of the most popular social media websites including LinkedIn, MySpace, Tumblr, Fling, and VK.com when an unknown Russian hacker published the data dumps for sale on the underground black marketplace.
LeakedSource says Twitter data includes 32,888,300 records, including email addresses, usernames and passwords. It further said that it has added the information to its search engine, which is paid but lets people remove leaked information for free.
Twitter in a statement to TechCrunch said that the recent hacks of accounts was due to the re-use of passwords that were leaked in the LinkedIn and Myspace breaches.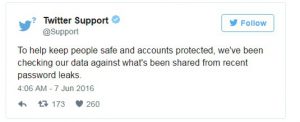 A Twitter spokesperson also recommended people of using unique and strong passwords for Twitter in the wake of millions of passwords stolen on other social networking sites.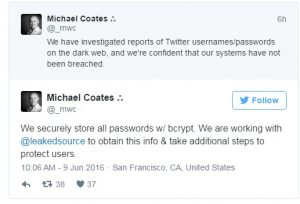 While LeakedSource says that it has checked the validity of the data it received by verifying the passwords used by 15 users being same, experts cautioned that the data may not be legitimate, said the report.
Twitter believes that its platform has not been compromised.
Whether or not your Twitter account has been hacked, it is best to change the password especially if it is used across multiple websites.